For Buyers
Buying in Oakville
Oakville is one of the best places to live in Canada - a beautiful, lakefront town that's ideal for families and executives with its many wonderful recreational, cultural and educational facilities and its traditional downtown 'High Street' offering fine dining, a choice of coffee shops, art galleries and a wonderful selection of stores.

It's an easy commute to Toronto either by car or GO train and there are fabulous places for weekend and day trips.

If you're a first-time buyer or haven't moved in a long time, check out the CREA Home Buyer Road Map.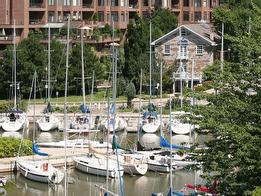 When you buy a home, you're not just buying a physical structure. You're buying into the neighbourhood. The types of people who live there, the local shops, the parks, swimming pools and restaurants all contribute to the overall feel of the area, and make it distinct from other neighbourhoods.
The most beautiful house in an area you don't love will never feel like home. So I don't just sell homes, I sell neighbourhoods. I'll sit down with you and find out what you're looking for in an area. Family-friendly, quiet and refined or young and lively? Do you want lots of parks to play or cycle in, or sailing and tennis within walking distance? Are you looking for charming streets filled with intimate cafes? Oakville has all of these!
Whatever your needs, whether you are moving just around the corner or half-way across the world, looking for your dream lakeside home or for your first place in Oakville, let Denise introduce you to a home you'll love – in a place where you'll feel right at home.